Deshaun Watson Sexual Misconduct Allegations: What We Know so Far
Culled from Complex News Letter
This week, seven women filed lawsuits against Houston Texans quarterback Deshaun Watson alleging sexual misconduct—including one woman who said the NFL star forced her to perform oral sex on him. The civil lawsuits, filed in Harris County, Texas District Court, describe a similar pattern. These women, who perform professional massage services for work, were contacted by Watson. They scheduled massage sessions. When these women showed up to the sessions, Watson ultimately engaged in inappropriate sexual behavior, court papers allege. The women described feeling scared; some described worrying about his physical size, while others expressed fear because of his prominence.
These lawsuits have also called out the NFL, saying it's "notorious in its own right for a culture that fosters sexual harassment and sexual assault. Despite its lip service and a strong ad campaign to the contrary, many of its players have been accused of committing heinous sexual crimes against women. The NFL is no stranger to scandal, certainly when it comes to offenses against women."
Watson has denied mistreating women. Here's what we know about the allegations so far.
The alleged March 30, 2020 incident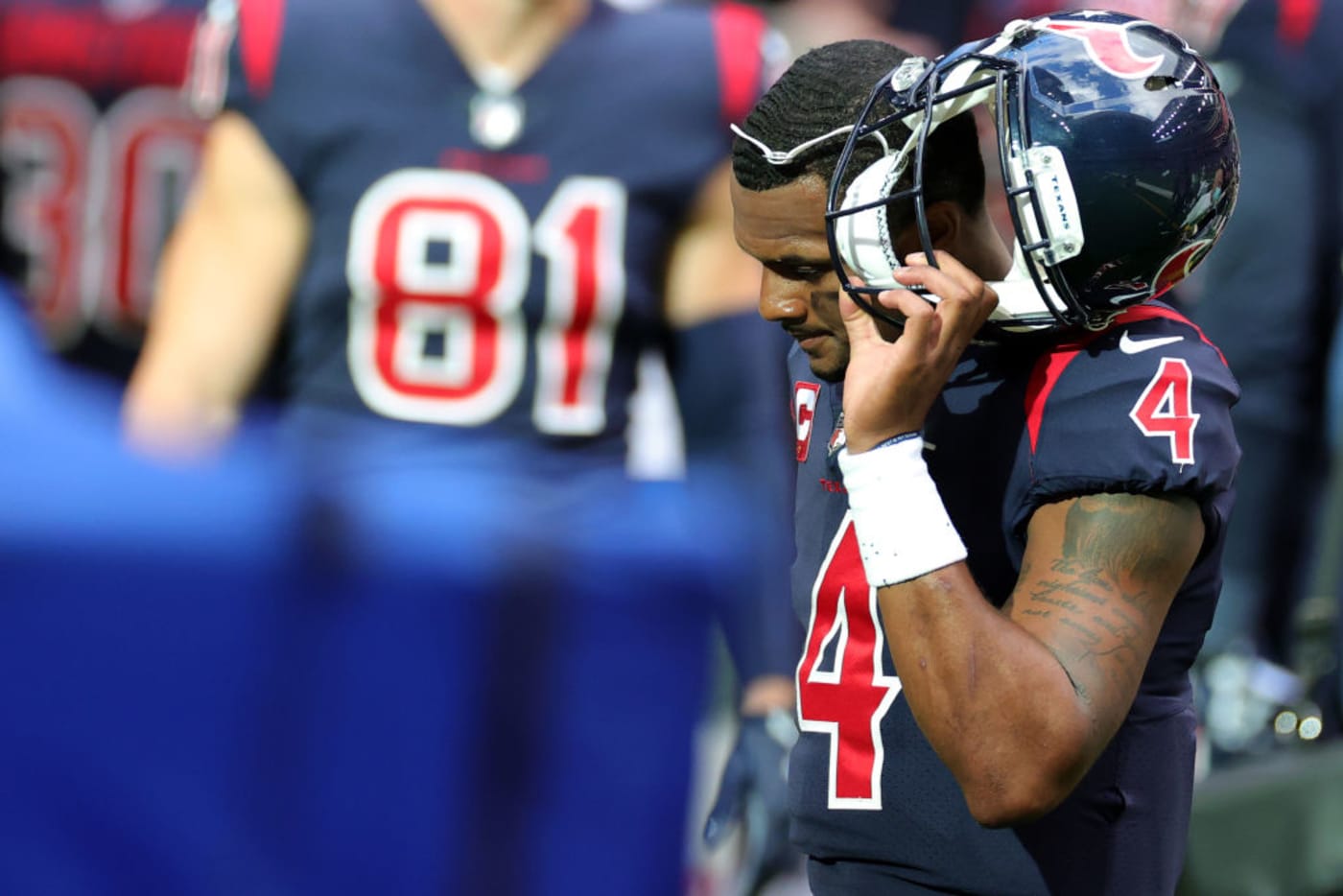 In a March 16 lawsuit, this woman said that Watson contacted her in late March 2020, asking to schedule a massage. Like other women who have filed suits against Watson, she "found it somewhat peculiar that a NFL player would request a massage from her, because she is not yet a well-known masseuse and it was her belief that a player like Watson likely had access to an entire team of trainers and the like," according to the lawsuit. But she was trying to grow her business, and so she agreed.
Before their scheduled March 30 session at her house, he asked if "she was going to be alone," court papers state. When Watson arrived, she left him in the room. After she went back in, he was on the massage table, "completely naked with only a small towel covering his groin area." He had brought this towel. He "aggressively" told her how to perform the massage, instructing her "only to use her hands," and "repeatedly stated that he wanted her focus to be on his groin area." Less than a half hour later, she felt very uncomfortable, as "it became apparent that Watson wanted a massage for only one reason—sex," court papers state.
Watson "continued to aggressively attempt to steer the conversation to how [she] was not rubbing him the way he wanted. Several times he specifically kept trying to direct her to his penis. At one point, he purposely exposed the tip of his penis from under the towel. Watson was at this point fully erect, and moved his body so he could expose himself more. As a result of his moving of his hips, Watson purposely touched the Plaintiff's hand with the tip of his erect penis," court papers state.
She stopped the massage and asked him to leave. He responded: "I know you have a career and a reputation, and I know you would hate for someone to mess with yours, just like I don't want anyone messing with mine." She took Watson's statement as a threat. He later texted her to apologize. Although she didn't respond, she received direct messages on Instagram from two other pro football players several weeks later, who told her that "Big D" had referred them to her, the lawsuit states.
The alleged June 2, 2020 incident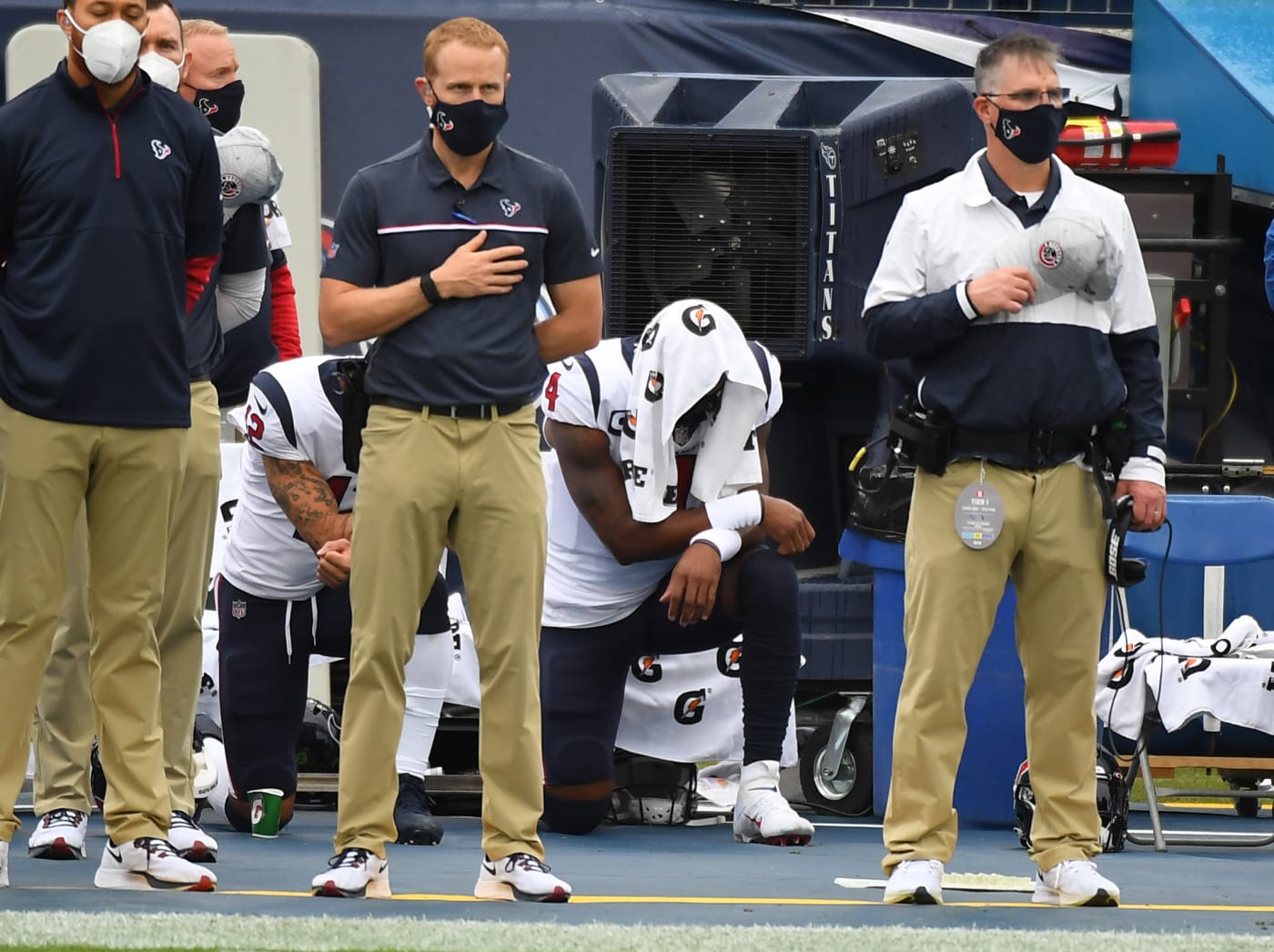 In this March 18 lawsuit, a woman stated that she and Watson spoke on the phone after he contacted her, asking about a massage. He allegedly told her: "I make a lot of massage therapists uncomfortable and it's really hard for me to find someone who will meet my needs." Watson said he wanted massage work specifically targeting his glutes. The woman, who "routinely" provides massages to high-profile athletes, including NFL players, assumed it would be a professional session.
Before their June 2 session started, Watson asked to shower. She left the room and when she came back, he was "completely naked, exposing his buttocks." He repeatedly refused her requests to cover up and would "purposely move to knock the towel off."
During the session, Watson "exposed his penis to Plaintiff several times. Watson laughingly told Plaintiff she could move his penis out of the way." He wound up getting an erection. "Multiple times he moved his body in such a way to make his penis touch Plaintiff," court papers maintain.
The alleged August 28, 2020 incident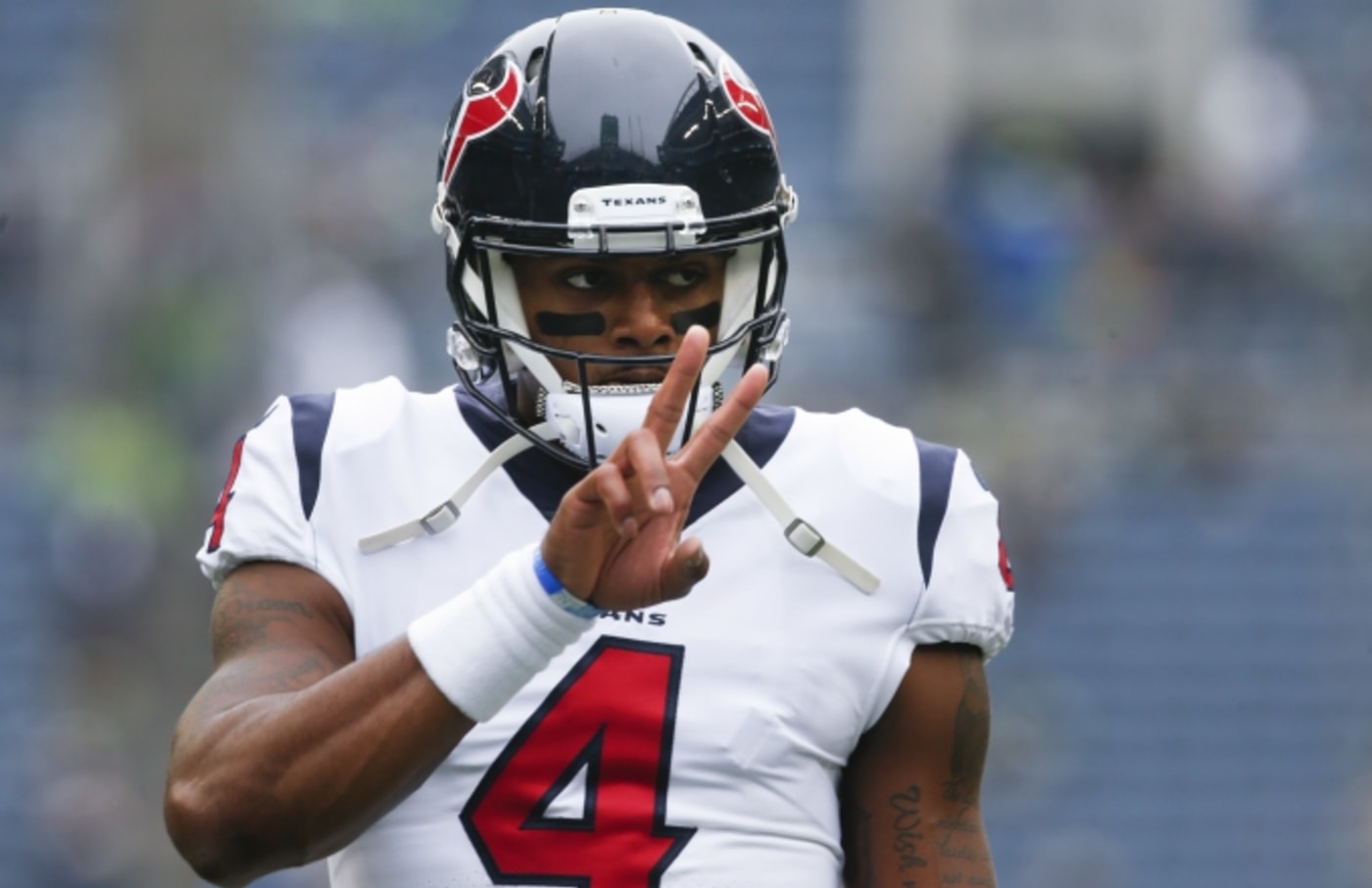 According to a lawsuit filed on March 17, Watson reached out to this woman, a single mom in Atlanta, in August 2020 about a massage. Watson allegedly flew this woman to Houston from Atlanta for an Aug. 28 massage session. Prior to the session, he told her "he wanted to specifically focus on his glutes and his groin area and asked if she was comfortable with working on those areas. He then asked about quads and the Achilles." The woman "indicated she understood Watson's requests."
After arriving at the Houstonian Hotel, Club, and Spa, where Watson had a suite, he "immediately got completely nude on the massage table with his penis completely exposed. Plaintiff firmly told Watson that he needed to use a towel to cover himself as that was the appropriate way of conducting a professional massage. Watson refused," per the lawsuit.
"Watson told her he 'gets hot easily' and for that reason he wanted to remain completely nude." While she thought something was "off," she wanted to give him the benefit of the doubt. But shortly thereafter, "Watson kept aggressively redirecting Plaintiff towards his anus. Watson asked Plaintiff to use more and more oil on his anus." She was uncomfortable. "Watson then got more specific and asked Plaintiff to work on the inner part of his anus," the civil suit says.
The woman ignored him and started to work on his inner thighs, but he got "more aggressive, now telling Plaintiff to go higher and higher, towards his penis." She said no, but "Watson kept insisting, saying 'come up more and go here towards his genitals.'"
"It was at this point that Watson moved in her direction, causing Plaintiff's hand to touch Watson's genitals." He flipped onto his back, completely exposing his penis. She told him that he needed to cover himself. He refused to, and she stopped the session, saying she had to go. "Watson grabbed her hand and started to rub her arm, pulling her towards him, saying 'it is okay, it is okay.'" The woman pulled away from Watson, reiterating that she needed to leave. Watson got into the shower and she left, the suit states. ​​​​​​​
The alleged September 9, 2020 incident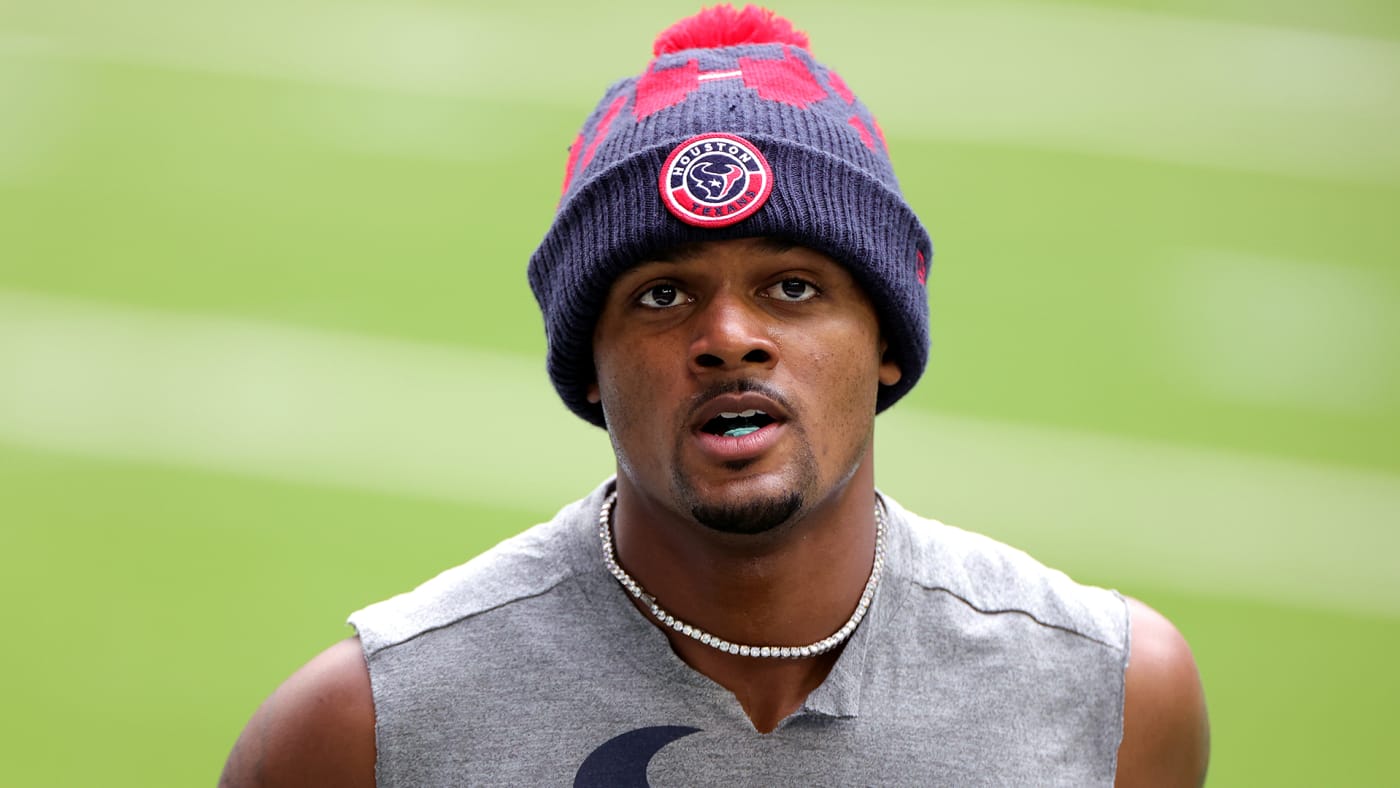 In a March 18 lawsuit, one woman, who's a licensed esthetician, said she had "several" interactions with Watson. The first was in September 2020 and the second in October 2020. The her boss said that Watson had reached out, asking for the woman's photograph. Watson told her boss that he wanted to give her a massage. The woman thought this was "odd" and said no.
The boss said that Watson asked for her phone number so he could directly schedule an appointment. They wound up scheduling an appointment; before he got there, Watson texted her "incessantly," asking if anyone else was at the spa. He asked to use the spa's back entrance.
After he got there, the woman told him she was going to leave the massage room so he could disrobe. He said he did not want her to leave and insisted she stay. Although "bewildered by his contact," the woman turned around so she wouldn't see him naked, court papers allege.
Watson, who started complaining right away and "aggressively dictated the session," asked if he could turn from his stomach onto his back. "When he flipped over, Watson had an erection and asked Plaintiff what she was going to do about his erection." She told Watson that his behavior wasn't appropriate, but that she was "scared and confused." The session wound up ending "without further incident."
During their October 2020 appointment, however, Watson "escalated his behavior."
"During the session, Watson tried to put his penis in Plaintiff's hand and asked Plaintiff if she would touch his penis," court papers state. He "moved his body in a way that caused Watson's penis to touch Plaintiff's hand." He also tried to kiss her on the mouth. She ended the session early and left.
The alleged September 24, 2020 incident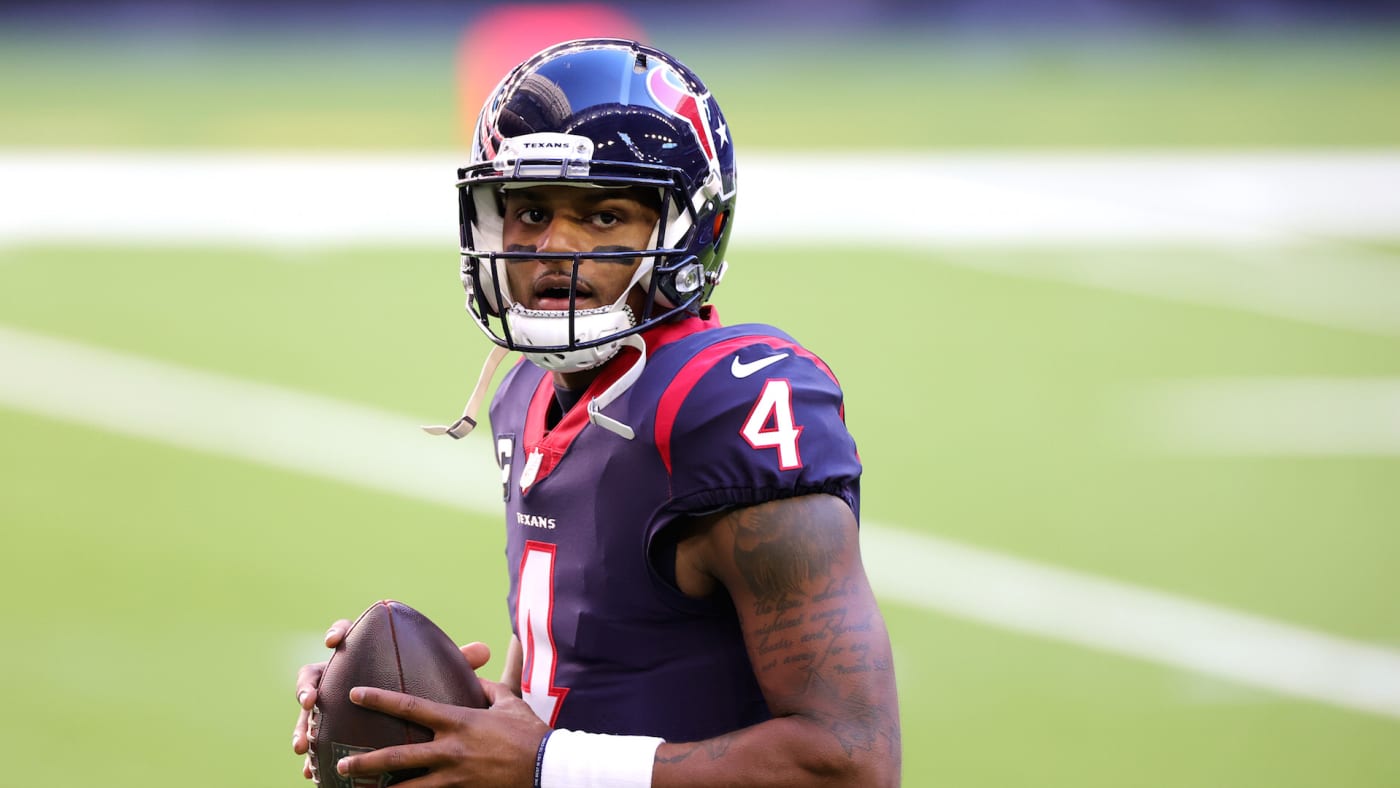 A lawsuit filed on March 18 alleges that Watson contacted this woman in September. They scheduled a session that would take place at a room in a Houston salon on the 24th. She left the room before the session started so he could undress; when she got back, only his backside was covered with a small towel.
"Watson began to aggressively dictate how he wanted the session to go, and wanted Plaintiff to instead concentrate on his groin area," the suit states. Watson then got on his back, and the towel "was now only covering his penis."
"Watson stated several times that he wanted to remove the towel so he could be completely naked. Watson asked Plaintiff if he could be naked, and even asked Plaintiff if it was okay if he got aroused," the suit charges.
She told him to cover himself and tried to professionally finish the session. At one point, however, Watson "became aroused and got an erection" and "he continued to move his body in a way that would repeatedly cause his penis to touch Plaintiff's hand." Shocked, she moved away. Still on his back, "Watson then ejaculated." The woman left the room, court papers state.
The alleged October 19, 2020 incident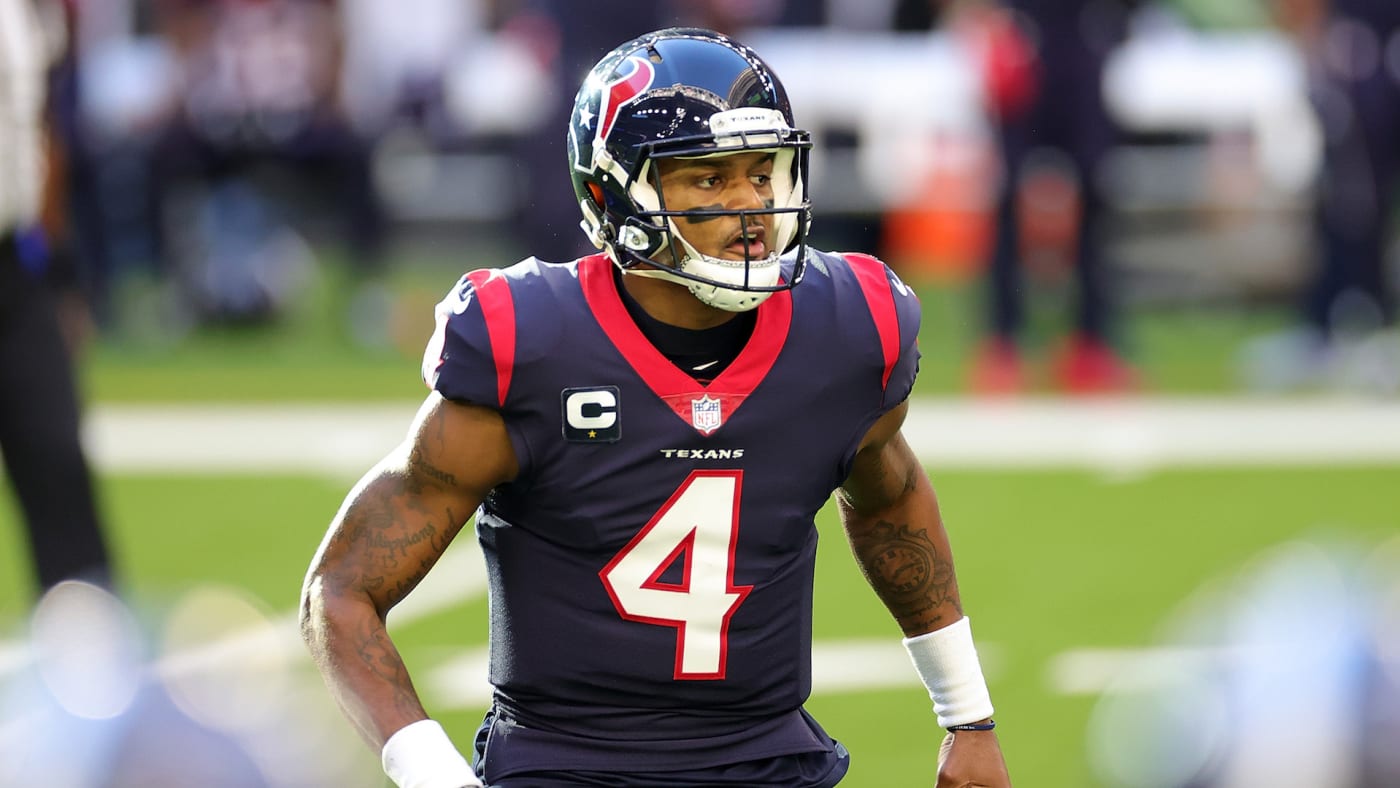 This woman, in her March 18 lawsuit, said that she and Watson agreed to an appointment, which would take place at the woman's office in Houston. Although Watson was initially respectful, that "changed very quickly." After the session started, Watson began "staring" at her "in a provocative manner and told her not to raise the towel so high." He then started to pull the towel down in an effort to expose himself.
Watson told her to work his inner thighs. The woman said she didn't do that kind of work, but he insisted they hurt, so she agreed. He eventually turned onto his back and she continued to work on the rest of his body. She thought the situation was weird, but gave him the benefit of the doubt. Watson left. Around Nov. 2, Watson texted her about another session. When he arrived, "Watson, without any notice, kissed Plaintiff."
She quickly left the office, went to her friend's store next door, told the friend what had happened, and, after composing herself, went back into her office. Watson had already disrobed and "exposed himself." She told him that wasn't normal, but needed the business and money "as a single mom," and continued with the session.
She declined to massage his buttocks and genital area, but he "would also move his body in a way that would cause his penis to touch Plaintiff's hand." She declined his offer to pay more to massage those areas. He became upset and left, court papers allege.
The alleged December 28, 2020 incident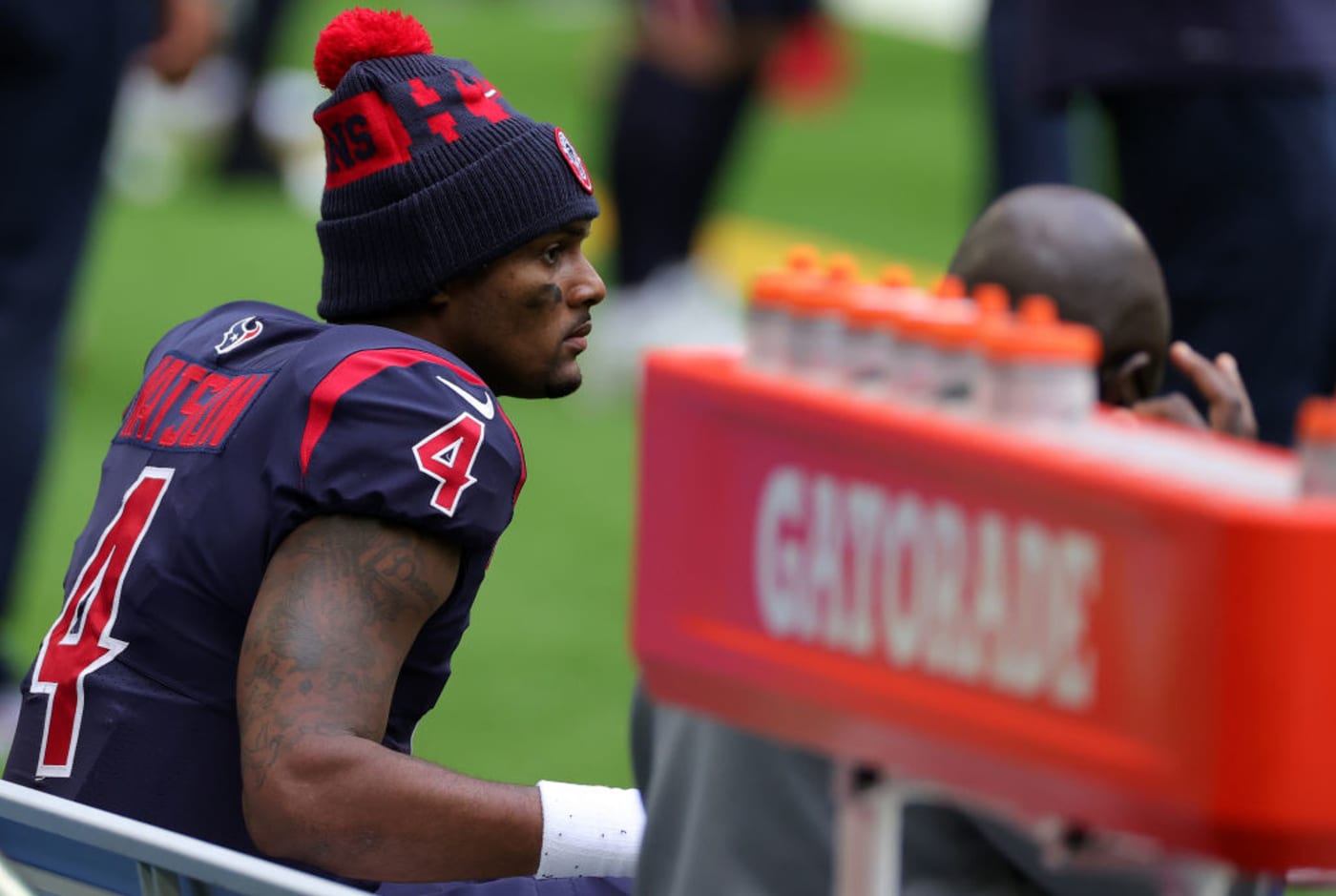 In a lawsuit filed on March 17, the woman stated that Watson reached out to her in December and scheduled a massage session for the 28th of that month. She and her mom went to an office, as planned, and they set up the massage room. Her mom left and saw Watson enter the office building. The woman left Watson in the room so he could undress. When she came back, Watson was on the table with a tiny towel on his backside, according to court papers.
She "started getting uncomfortable but did not want to upset the much taller and stronger Watson who is 6'2 and weighs over 200 pounds," the suit states. While she tried to keep the session professional, Watson "soon aggressively started dictating the massage and where he wanted Plaintiff to touch him on his body," insisting on his "inner glutes" and "inner thighs."
"Watson made clear, repeatedly, that he was a professional football player who could help or hurt her career."
After Watson flipped onto his back, he "began to coerce" her "to massage his inner groin area." She said she had a "special tool" she had to use, but he refused, saying he wanted this area massaged with her hands. Not long after he asked for his abs to me massaged, Watson "got more aggressive, forcefully telling her to move her hand down to his pubic area."
"Watson instructed her to slide her hand across his genitals," the suit says. The woman began shaking, and it was clear that she was scared. "Watson kept coercing and intimidating Plaintiff and it was at this point that Watson coerced Plaintiff to move her mouth towards his penis, forcing Plaintiff to perform oral sex on him," the suit states. "Plaintiff did not consent to any of this conduct. Plaintiff blacked out for a few minutes from the fear," court papers state.
Watson denies wrongdoing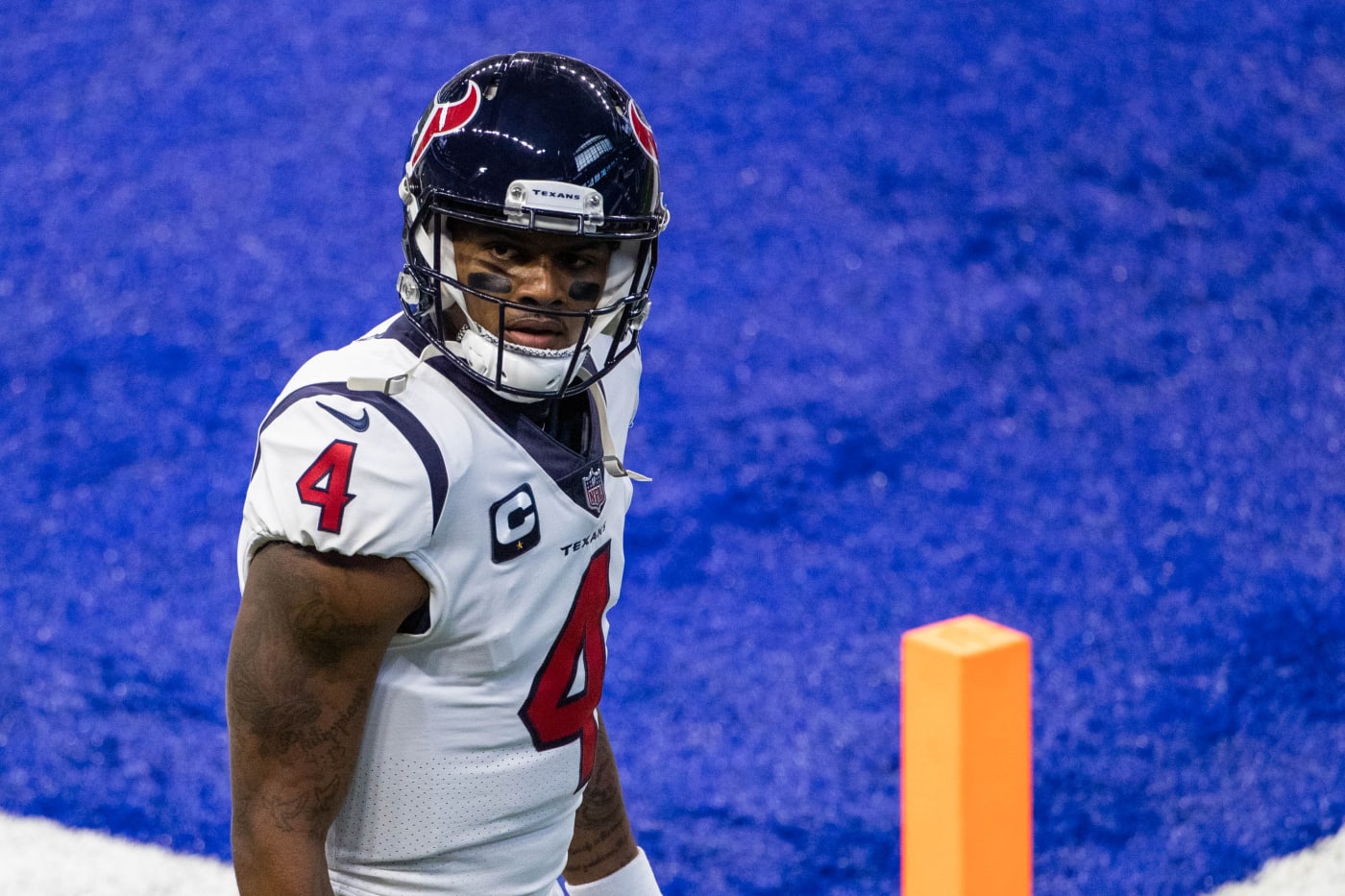 In a March 16 tweet, Watson vehemently denied abusing women. "As a result of a social media post by a publicity-seeking plaintiff's lawyer, I recently became aware of a lawsuit that has apparently been filed against me. I have not yet seen the complaint, but I know this: I have never treated any woman with anything other than the utmost respect," he wrote in a note comprising his tweet. "The plaintiff's lawyer claims that this isn't about money, but before filing the suit he made a baseless six-figure settlement demand, which I quickly rejected. Unlike him, this isn't about money for me—it's about clearing my name, and I look forward to doing that."
Rusty Hardin, Watson's lawyer, told ESPN after the first two lawsuits: "I'm real comfortable with the kind of person that Deshaun Watson is, and I don't like to publicly comment until I get all the facts… the allegations are really inconsistent with the kind of person he is."
Hardin released a statement Friday, which said: ""I'm extremely proud to represent Deshaun Watson and wholly stand behind him against what we believe are meritless allegations. However, we will wait to comment in detail until we've completed our review of the numerous, evolving allegations…We will respond next week and ask you to keep an open mind until we do so."
The NFL opens an investigation
The NFL told the Texans on Thursday that it was probing the allegations against Watson. In a statement Thursday, the Texans said they would cooperate, NFL.com reported. "The NFL informed us today that they will conduct an investigation into the allegations made in the civil lawsuits filed against Deshaun Watson," the Texans said. "We will stay in close contact with the league as they do."
Watson has not been charged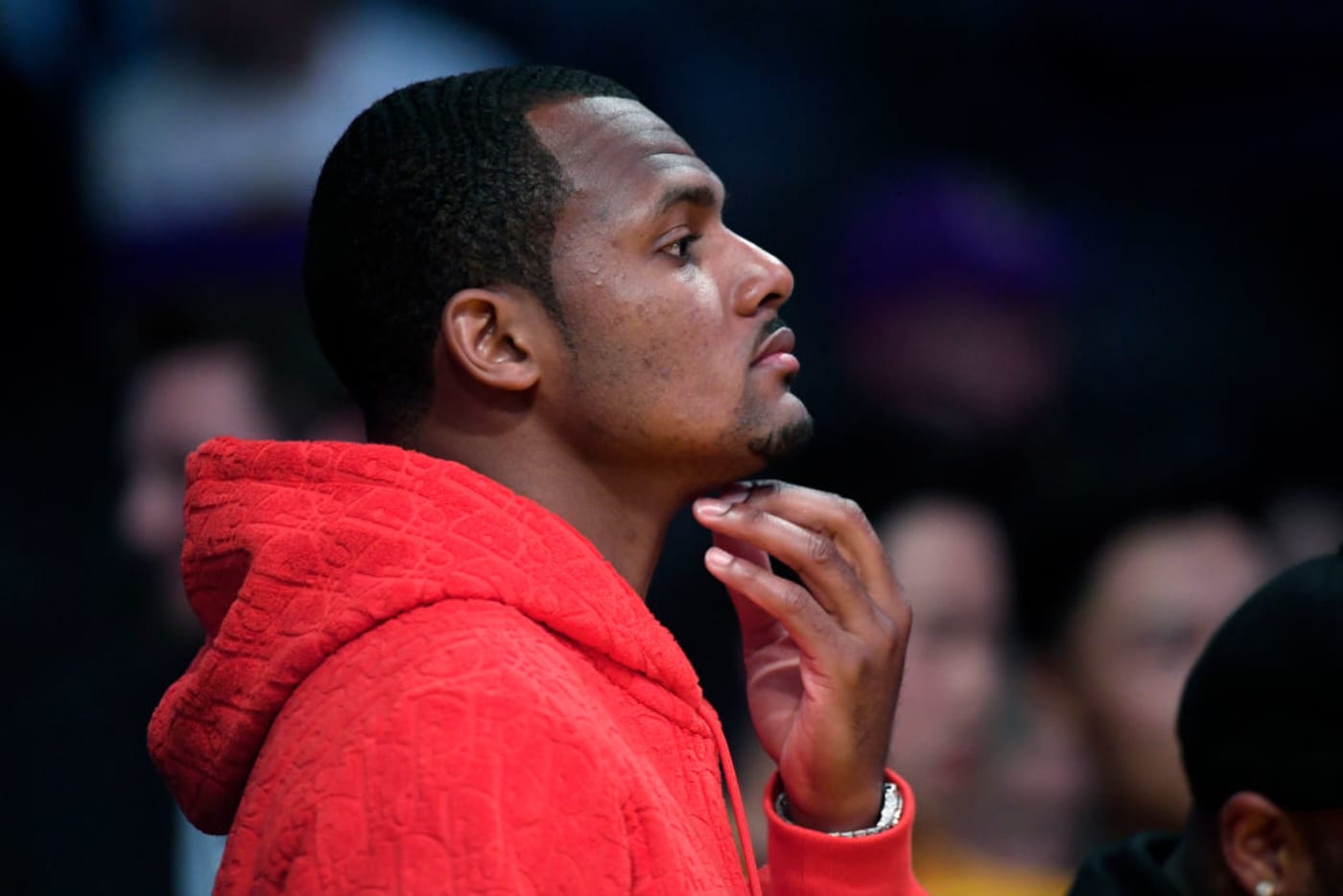 Asked for comment on the allegations, a spokesperson for the Houston Police Department said: "We cannot confirm suspects who are not charged." The Department doesn't confirm investigations against any individual unless that individual is charged and or arrested, authorities also said.
Survival in Obscurity —Tribulations of African Americans in the Pandemic
Finally, it took the pandemic to float ashore the system-induced tribulations of a population subjugated by a bigoted justice system
By Anthony Obi Ogbo, Ph.D.
A professor in a historically black college in Houston looked at the screen during one of his remote classes and noticed something quite unusual. Besides low classroom participation, a student could be seen in a Walmart breakroom, and another was in a car with a baby sleeping comfortably behind them in an infant car seat carrier. In another situation, a student narrated how she was ejected from her home and had no regular access to the internet because she had to move in with a relative who was equally struggling financially.
These testimonies are consistent with various studies and news publications revealing the struggle of African Americans and other minorities within an unbalanced socio-political system. According to a study by the Pew Research Center, the COVID-19 economic downturn made it harder for some Americans, particularly people of color, to pay their monthly bills. Furthermore, Voice of America (VOA) reported that a devastating wave of U.S. coronavirus cases forced many school districts to close their classrooms and return to online instruction, creating educational hurdles that were especially severe for millions of poor and minority students.
But why would it take the pandemic to finally accept or acknowledge an overwhelming dichotomy in the social and economic structure?
But why would it take the pandemic to finally accept or acknowledge an overwhelming dichotomy in the social and economic structure? Using Greater Houston as a yardstick, this documentary renders a phenomenological revelation of the tribulations of the African American population in Greater Houston. News reports, studies, heartfelt testimonies, and eyewitness accounts validated the horrible plights of African Americans during this period. Focusing on education, this report unravels how unequal economic standards and social challenges exacerbated limited access to the necessary technology needed to sustain African American businesses and academic ventures during this historic disaster, leaving this population struggling helplessly in sheer system ambiguity.
Facts and Figures
Most studies conducted during the pandemic directly or indirectly confirmed the unfavorable situation for African Americans. For instance, at the early stage of the pandemic, most low-income parents raised an alarm about their unpreparedness for a lockdown that would necessitate school closures and distance learning. According to a Pew Research Center survey, roughly 64% of parents or guardians expressed concerns about their children falling behind in school, with 28% saying they are very concerned. In a new study, lower-income parents (who are predominantly African Americans) expressed more concern than those in higher-income groups about their children potentially falling behind.
The pandemic also made a peculiar revelation regarding disparities in access to digital technology. Even with the explosion of technology access and adoption among Americans with lower incomes, people with different incomes remain markedly different, according to a Pew Research Center survey of U.S. adults conducted Jan. 25–Feb. 8, 2021. Americans with higher household incomes are more likely to have multiple devices that enable them to go online. Roughly 63% of adults living in households earning $100,000 or more a year have access to a home broadband service, a smartphone, a desktop or laptop computer, and a tablet compared with 23% of those living in lower-income households, the study reveals.
Furthermore, the same study showed that computer ownership varies by ethnicity. Black and Hispanic adults in the United States remain less likely than White adults to say they own a traditional computer or have high-speed internet at home. Eighty percent of White adults report owning a desktop or laptop computer, compared with 69% of Black adults and 67% of Hispanic adults. Eighty percent of White adults also report having a broadband connection at home, while 71% of Black and 65% of Hispanic adults say the same. These gaps have been present across several Pew Research Center surveys. (There were not enough Asian respondents in the sample to be analyzed separately.
Like an earthquake exposes the fault lines in the earth; the COVID-19 pandemic exposed the fault lines in America's social and economic institutions —Marc H. Morial
Other studies corroborated the wide gap that separated African Americans and other minorities from their White counterparts regarding access to public resources before and during the pandemic. For example, the National Urban League's 2020 State of Black America report titled "Unmasked" attributed a schismatic gap in allotment of resources during the coronavirus pandemic to racism in America—particularly within the economy, health care institutions, and the justice system. According to the National Urban League President and CEO, Marc H. Morial, "Like an earthquake exposes the fault lines in the earth; the COVID-19 pandemic exposed the fault lines in America's social and economic institutions." Among the findings in the National Urban League's 2020 State of Black America report: African Americans and Latinos are more than three times as likely to contract the coronavirus as whites, and African Americans are nearly twice as likely to die.
Generated from a virtual forum on the pandemic, a Harvard Gazette report titled "COVID's triple whammy for Black students" narrated how college students of color not only face a disproportionate risk of contracting COVID-19 but also show they are particularly vulnerable to psychological damage from the fear of catching the virus —especially when the longtime struggle against inequality and the current financial crisis is factored in.
As of December 2020, in Houston, when the spring school season was being anticipated, the area school districts signaled the troubling failure rates associated with virtual learning. For example, the Houston Independent School District (HISD) announced that 42% of enrolled students failed at least one course during the first six weeks of the school year compared to 26% of students who failed at least one course during the same period in 2019. Cypress-Fairbanks Independent School District released data confirming that 44% of high school students and 38% of middle school students enrolled in virtual learning failed at least one course during the first grading period. Aldine Independent School District reported a 45% failure rate for students enrolled in virtual learning compared to 18% during the same period in 2019. Fort Bend Independent School District reported that 21% failed at least one course during the first grading period compared to 13% during the same period in 2019.
The COVID Tribulation
As the coronavirus surged across the nation, digital and distance learning became a necessity. Online classes became inevitable to limit individual contact and prevent the spread of the virus. This remote lifestyle and learning system left predominantly African American students with various challenges regarding access to the internet and familiarity with the various system applications associated with online learning platforms.
The major challenge students, parents, and school administrators faced was the availability and access to the technology and internet necessary for participation in remote learning. At the start of the pandemic, the Center for American Progress noted an estimated 16.9 million children nationwide did not have access to high-speed home internet, and 7.3 million children did not have access to a home computer. This included 33% of Black, Latino, and American Indian/Alaska Native households.
In Houston, HISD faced a gloomy return to school with a system crash. More than 200,000 students who logged into the platform to resume virtual classes were met with a surprise. A few hours into the classes, the website for the state's largest school district crashed. Even when the site was eventually restored, Interim Superintendent Grenita Lathan admitted in a press conference that about 12,200 students still did not have digital access. There were complaints that children, primarily in the elementary grades, needed system devices, although HISD claimed it had distributed over 100,000 iPads. Again, this system shortfalls puts an undue burden on children, primarily African Americans who come from low-income homes.
Affluent residents escaped to nearby hotels and other cities, while the underprivileged were left in sheer discomfort.
As the pandemic persevered with unprecedented death rates and hospitalizations, African Americans and minorities were further hit with a merciless winter storm that ravaged Texas. Neighborhoods across the state were suddenly cold and dark for days, and residents were left shaking in their homes. Affluent residents escaped to nearby hotels and other cities, while the underprivileged were left in sheer discomfort.
Chris Harris, a southwest resident, narrated how he broke old furniture into pieces in his garage to set up fireplaces for warmth. "I had gone round and round the neighborhood and could not find firewood. They all sold out."
To alleviate this situation, the city of Houston announced several shelters and warming stations that opened to help those in need. This facility had the resources to shelter 200 people but ended up with almost 800. Without a doubt, this weather calamity subjected the academic year to another distraction, leaving parents, teachers, and students already struggling with the pandemic in sheer desolation. Students already behind in virtual classes were further dispirited by the lack of power or water. In HISD, for instance, more than 130 buildings lost power and water. Interim Superintendent Lathan told Bianna Golodryga on CNN how the nutrition-service building that houses food for students was badly affected.
The field reality of the tribulations of African Americans during the pandemic radiates more concerns. Students faced severe economic difficulties, which in turn hindered their academic performance. Chris Hubbard, a student at Trend Barber College, a workforce Houston-based community college, said he had to take time off school to deal with economic issues associated with his rent and food. "Right now, I need help with my bills bad. I am like six months behind in some of my bills, and I am back to school trying to get myself together." Tonya Rodriguez, an instructor from Trend, said the school had to deal with students who undeniably were affected by the wrath of the moment. "I could see these students and feel them, that they might have gone through one thing or the other. Also, not all the students came back initially because there was this fear of contracting the virus, but overall, things have returned to normal." Trend Barber College has two campuses in Houston and is comprised of about 90% African American students.
Gayle Bennett, a teacher with the Alief Independent School District (Alief ISD), cited low-class participation. Bennett teaches special needs children, mainly African Americans and Hispanics. Some classes recorded low participation or late attendance because most parents were not available to assist kids with the online learning platform. Alief ISD, which covers southwest Houston, saw a drop in student enrollment due to COVID-19. Fall enrollment was down 8%, leaving the districts with the challenge of re-engaging with students and parents.
The plights of minorities, especially African Americans, existed even before the pandemic. For example, at the early stage of the pandemic, when Donald Trump's regime touted a 2.5 million job explosion, figures showed unemployment growing during the same period for African Americans finally rising to a decade-high number. Throughout the pandemic, African American businesses unreasonably faced both the negative impact of the coronavirus and the prevailing economic consequences. They struggled in vain to access most federal aid programs created to alleviate the devastations of the pandemic.
The US Small Business Administration (SBA) provided a list of grant and loan programs to help small, locally owned businesses survive the challenges of the pandemic. Yet minority-owned and other very small companies were marginalized by overburdened bureaucracies and unattainable conditions or demands. Paula Falaja, a Houston-based healthcare business owner, did not receive any aid. "By the time I heard that businesses were getting help, it was over. I didn't even apply because I didn't know it existed," she said.
Falaja was not alone. Most minority businesses struggled helplessly to access relief from SBA's COVID-19 relief options. The CBS News reported how thousands of minority-owned small businesses were at the end of the line in the government's coronavirus relief program and struggled more than White owners to find banks that would accept their applications.
According to the reports, data from the Paycheck Protection Program (PPP) released on December 1 and analyzed by the Associated Press show that many minority business owners desperate for a relief loan didn't receive one until the PPP's last few weeks. However, many white business owners were able to get loans earlier in the program.
The Texas Tribune also reported how thousands of small businesses, especially those owned by people of color, were left behind by the stipulations of the PPP. According to the reports, the SBA acknowledged that established businesses "knew how to work the system" to get the loans, but mom-and-pop merchants were always at a disadvantage because they lacked the resources to quickly tap into that capital.
The design and implementation of the PPP were a total disaster.
The design and implementation of the PPP were a total disaster. Most Houston small business owners had issues ranging from the complicated application process to a lack of adequate assistance to help them navigate the complexities. Majorie (the name she provided), who owned a beauty salon at the time, said she was shuttled from agent to agent trying to get a loan. "At a time, I didn't know who was legit – some folks I don't know were demanding a 40% fee if they help me to secure any assistance." Another African American, "Jay," who said he was a student and owned an entertainment business, narrated a heartbreaking story of how he was denied by various lenders after a complicated but rigorous application process. There are hundreds of such stories, and most people chose to remain anonymous for fear of reprisal. "I don't want to get into trouble; just call me Jay, and please don't take a picture," he pleaded.
The New York Times featured a story revealing how minority entrepreneurs struggled to get small-business relief loans that corroborates these negative experiences. According to the story, a year after the PPP started, studies showed how the process design scorned Black and other minority-owned businesses. Whereas this program helped nearly seven million businesses retain workers, it was also beleaguered by complicated processes and fluctuating rules completely antagonistic to small and minority businesses.
For many predominantly African American business owners, who had never sought a bank loan before or others who had never filed taxes, the process designed for most government assistance programs remained a square peg in a round hole. It was spiritually devastating to keep hearing about millions of aid dollars while not seeing a dime of it. A study by UNIDOS US, published by Houston's local news station, KHOU 11, surveyed Black and Latino small-business owners and found that only 38% received some aid, and at least 41% were denied any federal help.
A Way Out
But why would it take the pandemic and the economic and socio-political policy catastrophe to finally reveal the tribulations of a population subjugated by a bigoted system? Does that mean that nobody was paying attention to significant matters of African Americans and other minorities? According to Carroll Robinson, State Chairman of the Texas Coalition of Black Democrats and a former At-Large Member of the Houston City Council, "There were people who paid attention, but folks in leadership didn't want to hear it. That is why this fight for voting rights is very important if we go back and understand the history of America—the right to vote was under guided by this assumption that if the Black people got the right to vote, they would vote for people who would have their interests at heart and who would make decisions in the best interest of the Black Americans or the Black community."
©2021 Texas International Guardian News
With low enrollment, schools across the nation are gearing up to resume a chaotic fall season. However, the current delta variant poses another threat to education with a growing number of cases and hospitalizations. Administrators are currently exploring and advancing several strategies to bring school kids back to normality, yet dealing with Blacks and minority students who were the hardest hit in the pandemic might require more effort. According to Robinson, "getting students back to school should be treated as a political campaign. If you notice, no schools in Texas are running ads aimed at young people. Also, you cannot run ads on the television to get the young people; we need to reach out to them through social media, and also, we have to make it easier for them to come to college. We shouldn't have them spending hours to fill out basic college applications."
We should be having a conversation in the Federal Government and Austin, not just about building roads and bridges but also about improving access to the internet —Carroll Robinson
There are also some colleges still unsettled between the digital and face-to-face learning options. Robinson said that pandemic or not, the government and schools must not abandon the online system. "Besides the online education, we should be in the business of hybrid education. So that the students who want to be on campus should have the ability to come to campus with all the proper protection and protocols, and students who want to learn online should be allowed to be online because we now have the infrastructure. We should be having a conversation in the Federal Government and Austin, not just about building roads and bridges but also about improving access to the internet," Robinson stated.
To address the devastating economic condition which would ultimately affect the ability of many African American and minority students to enroll in the fall session, Robinson suggested a tuition break. "I would wave tuition for this coming academic year. So that students could use those savings to help take some of the stress off of them and can perform academically. This is the highest thing higher education could do to not just help the students but also to help themselves and help the American economy."
©2021 Texas International Guardian News
Another major input in addressing a way out of the struggle of African Americans within a divisive justice system came from Professor Chris Ulasi, Chair of the Department of Radio, Television, and Film at Texas Southern University (TSU)―one of the largest and most comprehensive historically black universities in the nation. Predominantly African American and minority students at the TSU were not exempted from the devastations of the COVID-19 era.
According to Professor Ulasi, the pandemic took everybody by surprise, leaving school administrators with the challenges of adjusting to a new learning culture. "We had to adapt because the routing face-of-face process seized, and everything has to transit to remote."
Professor Ulasi said the university went the extra length to provide hotspots in greater Houston for students who had issues with the network. "Another thing the school did was to make sure that the teachers had good working technology resources at home. Laptops were made available to departmental heads and instructors." For safety," We have had a COVID-19 Task Force since the onset of the pandemic comprising of experts corroborating and providing guidelines for safe campus experience," Professor Ulasi said.
It has come down to a collective responsibility to mitigate the economic burden to get the students back to school.
The current drop in enrollment is across the board, especially among the minority population. To Professor Ulasi, it has come down to a collective responsibility to mitigate the economic burden to get the students back to school. In our situation at the TSU, we now have a new president, Dr. Lesia Crumpton-Young, who has been collaborating with the school administrators to handle these challenges. "For instance, the school is looking at seeking funds to offer debt relief for students with big loans; if not, students with severe financial difficulty would not be able to enroll."
President of Trend Barber College, Nnanyelugo Obinna Mbachu said his major focus is making sure that students are not just physically or financially ready for classes but are also mentally prepared. "Based on the hardship imposed by the pandemic, I believe that government could support with the necessary funding to help students alleviate their economic burdens. Grants can be provided to community and career colleges to reinforce their capacity to adequately rehabilitate students and provide them with necessary resources to persevere this period."
Protests and disputations last year over the marginalization of the African American population during the pandemic may have yielded at least one major positive outcome. They created a renewed attention to historically Black colleges and universities, which led to a surge in private donations, at least for some. For instance, late last year, MacKenzie Scott, the ex-wife of Amazon founder Jeff Bezos, announced charitable gifts of about $4.2 billion to 384 organizations, including more than 30 colleges. These donations, made over four months, went to historically Black colleges or universities, tribal colleges, or community colleges. CEO of Netflix Inc., Reed Hastings, and his wife, Patty Quillin, announced a donation of $120 million to historically black colleges and universities, with the funds being split among Morehouse and Spelman Colleges and the United Negro College Fund. It was a gift they tagged "an investment in America's future." The bottom line is that these donations are necessary to compensate for generations of inequity.
Similarly, former New York City Mayor and one-time presidential candidate Michael Bloomberg pledged $100 million through Bloomberg Philanthropies to the nation's four historically Black medical schools. A breakdown indicates that about 800 students attending Atlanta's Morehouse School of Medicine, Los Angeles' Charles R. Drew University of Medicine, Washington's Howard University College of Medicine, and Nashville's Meharry Medical College will be awarded about $100,000 per student over the next four years.
In addition, in September last year in Houston, Amazon and HISD announced that Amazon would be funding computer science education and teacher professional development for 60 elementary schools in the district. This will affect more than 32,000 students from underserved communities and groups currently underrepresented in technology as part of its Amazon Future Engineer program.
The Center for American Progress an independent, nonpartisan policy institute that has been tracking key trends during remote learning and school reopening efforts across the United States, in a feature analysis, suggested that schools and districts must not give up on embracing the increasingly digital world. "Schools, districts, and state departments of education should seek out opportunities for innovation to ensure that their students are receiving all the wraparound supports they need to flourish in school," the report stated.
♦Guardian Publisher Professor Anthony Obi Ogbo  is also on the Editorial Board of the West African Pilot News. Article is also published in the West African Pilot News
_____
This documentary was funded through the "Black Press Grant Program" of the National Association of Black Journalists (NABJ) and the Chan Zuckerberg Initiative (CZI). The content is solely the responsibility of the author and does not necessarily represent the official views of the National Association of Black Journalists or the Chan Zuckerberg Initiative.
COVID cases surge as Houston Methodist Hospital records first lambda variant
A spokesperson for Houston Methodist said Monday there is an "alarming spike in the number of COVID-19 cases across the Houston area, with the steepest increase happening over the weekend."
"The increased hospitalizations add stress to many of our hospitals that are nearing capacity," stated Houston Methodist in a press release. "A week ago today, Houston Methodist had a little over 100 COVID-19 patients across our hospital system. Today we have more than 185 COVID-19 patients."
Dr. Marc Boom said it is imperative "we, as a community, step up our vigilance and impress upon people to get vaccinated and decrease virus spread."
Similarly, Memorial Hermann last week reported a 50% increase in COVID-19 hospitalizations as almost every county in the area is seeing an increase in new cases. KHOU 11 analyzed health department data and found daily new cases in the Greater Houston area have jumped about 65% in the last two weeks. The seven-day moving average, as of July 15th, was 588 new cases a day.
More than 159 million people in the Unites States have been fully vaccinated against the coronavirus, according to CDC data released on July 12.
During the same period, the agency reported 5,492 patients nationwide with COVID-19 vaccine breakthrough infections had been hospitalized or died. According to the CDC, 75% of those patients were 65 or older and 19% of those cases resulted in death.
Texas Democratic legislators consider leaving state to block voting bill
Texas Democratic lawmakers have reportedly considered leaving the state to block passage of an elections overhaul bill, The New York Times reports, as Republicans press toward a vote on the legislation.
People with knowledge of the discussions told the newspaper that there had been preliminary discussions about how Democrats could leave Texas and not have to go back to the state Capitol to at least temporarily block the bill.
According to the Times, Democrats who support the idea argue that it would bring a renewed spotlight to voting rights in Texas. The group also claims it would place pressure on Democrats in the U.S. Senate to pass their own voting rights reforms.
But leaders of the Democratic caucus in Texas have reportedly argued that leaving the state could become a public relations catastrophe. Instead, they are pushing to slow the legislative process by packing the bill with amendments, the Times reported.
Democrats in the Texas Senate on Friday also filed a bill to expand voting options in contrast to GOP legislation being considered in hearings on Saturday. A Democrat pushing the bill acknowledged it will likely not receive a hearing, the Austin American-Statesman reported.
The moves come as the Texas legislature begins a special session to finalize work on the elections overhaul bill, which failed in May when House Democrats similarly staged a surprise walkout, denying a quorum and killing the elections bill.
In response, Gov. Greg Abbott (R) vetoed a budget provision that would have funded the state legislature. Texas lawmakers have moved to reinstate that funding.
The GOP election bill makes changes to rules on early voting and curbside voting, bans around-the-clock voting venters and eliminates straight-ticket voting. It also limits the use of drop-boxes for people who use absentee ballots.
Hearings on the bill will be held Saturday morning, and the legislature could pass it as soon as Tuesday, the Times reported.
The measure is one of several that have been passed across the country following the 2020 election results.
Arizona, Florida and Georgia have also passed elections overhaul laws. The Department of Justice is currently suing Georgia over its measure.